Flu Season Is Upon Us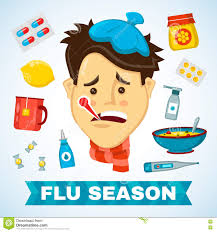 Parents and Guardians,
Just sending this out as a reminder that flu season is upon us and we all must do our part to prevent and control the spread of influenza.

If you recall from last school year, the Kansas Department of Health and Environment stated that a student diagnosed with influenza had to be out of school for 7 days after the onset of illness. K.A.R. 28-1-6 in regards to Influenza was updated (10/23/2019) changing this to 5 days after the onset of illness. The student must also still be 24 hours fever free without the aid of medication whichever is longer. This school and work exclusion will apply to both students that have had a positive laboratory test confirming diagnosis of influenza as well student that have been treated with antiviral medication used to treat influenza, as both are considered to be confirmation of a case of influenza.
Please notify the school if your student has a case of influenza. If you have any questions please call the school health office at 872-7660.
Thank you for your continued cooperation in keeping our students healthy and ready to learn!

Niki Depperschmidt, RN
Niki Depperschmidt, RN
USD 466 School Nurse
Scott City, KS 67871